ABOUT
Why We Hate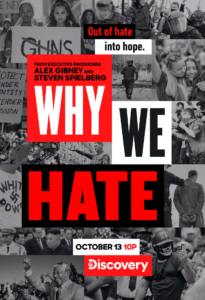 "Why We Hate" hails from Spielberg's Amblin Television and Gibney's Jigsaw Productions in association with Escape Artists for Discovery Channel, and went into production earlier this year. Sam Pollard ("Sammy Davis Jr.: I've Gotta Be Me") and Geeta Gandbhir ("Love the Sinner") co-direct the multi-part documentary.

"Why We Hate" will draw on research in psychology, neuroscience, sociology, and history, to trace the evolutionary basis of hate and use stories from both the past and present to reveal the nature of this primal and universal emotion.

The television event aims to reveal contemporary links to ancient behavior and use science as a basis for explaining the nature of hatred and the human mind. At the heart of the show is this question: If we can figure out why we hate, where hate originates, and how it is amplified, can we find a way to prevent it?

"Why We Hate" is executive produced by Spielberg, Gibney, Frank Marshall, Stacey Offman, Richard Perello, Darryl Frank, Justin Falvey, Yael Melamede, Erica Sashin and Steve Tisch. Nancy Daniels and Howard Swartz will executive produce for Discovery.
Created By:

Steven Spielberg and Alex Gibney

Cast:

Network and Release Year:

Discovery Channel, 2019

Website (Network page):
View Trailer